16-Mile 1976 Corvette is an Unused Slice of Malaise Muscle
Delivery-mileage C3 has that year's optional 'high performance' 210-hp small block V8
By Chris Chilton on March 21, 2023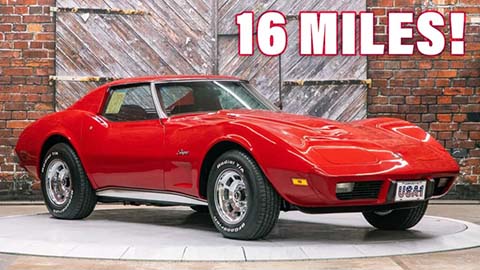 Imagine telling someone living in North America in 1976 that a mainstream American automaker would one day offer a street car with a four-figure power output that could stomp the quarter mile in less than 9 seconds.
To a generation who'd spent six years watching their beloved muscle cars neutered by WWII-spec compression ratios, soft cams and then catalytic converters, the idea of a car like the 2023 Dodge Challenger SRT Demon 170 wouldn't seem remotely plausible.
But that's not to say performance was entirely dead in the mid 1970s. Sure, many of the muscle-era favorites had died, and those that did survive, cars like the Pontiac Firebird Trans Am and Corvette, were much slower than they had been even five years earlier, but there were still some go-fast factory options available on new cars.
In 1976, the year the C3 Corvette pictured here was made, the base Vette came with a low-tune L48 5.7-liter 350 V8 that made just 180 hp (183 PS), but by equipping your C3 with the optional L82 motor you could pump that output to a heady 210 hp (213 PS). It sounds laughable now, we know, but anything starting with a "2" was considered seriously punchy in the height of the malaise era.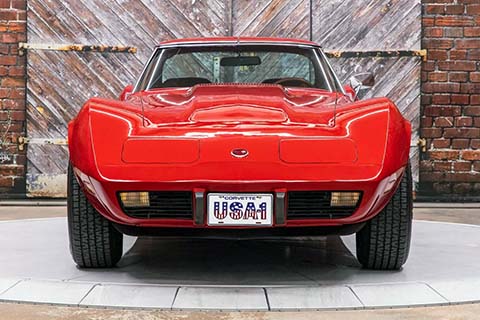 And it's not like the Corvette engineers didn't want to offer more power. They were hamstrung by a combination of both government legislation and also internal GM rules like the one that demanded every car in the General's portfolio, including performance heroes like the Vette, route all of their exhaust gases through a single catalytic converter.
That L82 upgrade cost the original owner of this C3 Corvette an additional $481 over the car's $7,978.85 base price, but we're not sure why he bothered because he must have used virtually none of its 30 additional horses. Getting on for 50 years after it left the Bowling Green, Kentucky, plant, this 1976 C3 has covered just 16 miles (26 km), and is currently looking for a new owner on the Bring-a-Trailer auction site.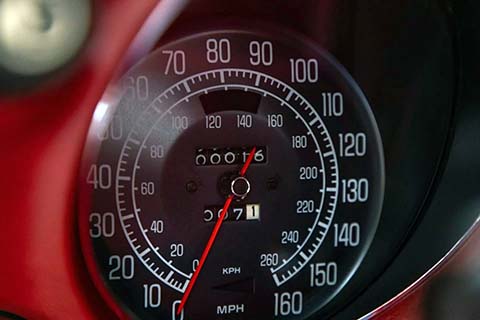 Despite the incredibly low mileage, the car has had some work over the years including some fresh Medium Red paint on the rear bumper, driver's sill and the area at the base of the windshield last year, and the engine was also hauled out of the bay and painted in 2021. Mothballed classics do sometimes get knocked about while in storage, of course, and it's also entirely understandable that the brake hydraulics have been overhauled too given the car's lack of use.
But if this C3's not quite in the same condition as the car your dad or grandpa could have bought new in 1976 (and some Corvette geeks on BaT have also pointed out errors like an incorrect wheel finish), it's very close, and that makes it pretty damn cool in our book.
These mid-'70s C3s have often been overlooked by collectors in favor of the earlier chrome bumper cars and the '78-on fastback models. But they look great, and while a 6.8-second zero to 60 mph (96 km/h) time isn't going to worry the 2023 Dodge Challenger SRT Demon 170, it wouldn't take much to unleash a few more horses. Anyway, even a 210 hp emissions strangled V8 sounds better than an EV, right?